Colleen Lynch & Rob Campbell
Antiques and collectibles add beauty and individuality to today's interiors. It's no secret that old furniture appreciates in value, while contemporary pieces decline. But most importantly, investment grade antiques command respect as they symbolize a great man or family's connection with history and culture.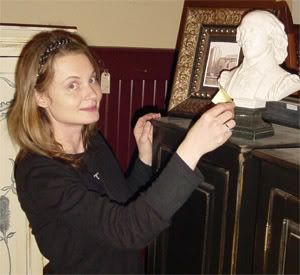 Colleen Lynch is the designer behind Dovetail Décor. She has helped many collectors reorganize their homes and businesses to properly display their valuable antiques. With her innovations, handy tools, and the experience of knowing what works, Colleen helps people live with their treasures.
When hunting for compliments for her client's antiques, Colleen finds bargains in Toronto's antiques ghetto on Queen St West and Roncesvalles (Jack Daw and Pickwicks) and also Ebrahams at Queen and Bathurst. Depending on her schedule, Colleen and her 'pickers' will spend Saturday on safari at Toronto antique shows. Look for her at The Winter Sale at Sherway Gardens in Toronto Jan 25 / Feb 1.
Inherited Pieces
Valuable items that have been handed down through the family for generations are often the first things that spark collections. These furnishings can be isolated and given 'pride of place' in the client's home, or seamlessly integrated into more contemporary design schemes.
Collections in Condos
In modern homes and condominiums space is at a premium. How can anyone keep a collection of anything in such a small area? The question eventually becomes, to store or to display? One solution is to rotate collections so that some pieces are in storage while others are enjoyed. This is more relevant if the art and colors of the collection match seasonal themes. When thinking about such displays, remind clients that homeowners insurance is probably the best way they can insure their growing collection, and any displays in your client's home office or front foyer or hallway display cases could be covered under small business insurance policies.
Types of Antiques & Collectibles
What type of pieces does your client have? Furniture and art are larger items and directly contribute to the decor and functionality of a home. These bigger pieces often work best as focal points or key accents in a room. Think, for example, of how lovely and unexpected a large scale print framed in antique gold and hung in an otherwise minimalist bathroom could be! In a similar manner, a condo living room done in neutral colours with slip-covered sofa and chairs could benefit from the warmth of wood – perhaps an antique chest of drawers? Using antique pieces can provide ingenious storage options. A piece of architectural salvage, or a framed antique map could make an entirely unique work of art in the hallway. Read this article on Investing in Antique Maps on Dumpdiggers.
Small scale pieces are best displayed in multiples. For example, a collection of vintage kitchen utensils hung from a peg board or a set of blue and white china propped in a row on open shelving. Another option is to arrange them in a vignette with objects that share something in common with them. The common element could be colour, texture or even theme. The connection can be as loose as a painting in sepia tones pared with antique books whose weathered pages show the same soft colours.
Take stock of the collection:
If your client has an assortment of potentially functional items, be open and creative about possible new uses for them. If they are beautiful items, and objects d'art, consider new and unusual places to display them.
Colleen Lynch's Ideas, according to category of antique collection at hand,
Furniture & Art:
Choose stand-out pieces as each room's "anchor" or focal point. Don't be afraid to apply a new coat of paint or new hardware to freshen an old piece. Or, think of a new use for an old piece. For example, an antique cart as a small kitchen island or bar cart. Buy multiple frames in the same style. Install a picture rail (or 2, one placed above the other). Frame pages from an old botanical print book or magazine.
Glass & Ceramics:
Display colourful bottles, bowls & jugs on modern shelving. For example, a free-standing unit with square cubbies. Install shelves across a window & place glass items on them so that the light winks through.
Decant modern products into historic bottles. Be sure to remember which one you've poured the face cream into, and which is filled with detergent. Antique glass and early Canadian pottery experts answer questions and source items on Dumpdiggers.com
Linens & Jewelry:
Place a hook or two in a minimal decor scheme. Choose a stunning antique dress or kimono and hang it as a work of art. Create simple curtains or cushions from vintage floral fabric for a romantic, shabby chic feel.
Fasten antique jewelry to a lampshade, affix to a fabric covered board or frame in a shadow box.
Don't be afraid to wear your treasures if appropriate!
Books:
Install shelving over door frames, around the perimeter of a room at ceiling height or under stairs.
Create an artistic stack and use as a side table.
Consider arranging shelves according to the size or colour of books. Recover all displayed books in uniform "jackets". Mix the displayed books with decor items.
Type of Style
A second consideration when displaying antiques and collectables is the style of your space. A formal interior in a more traditional style can benefit from symmetrical arrangements. In this case, for example, a mantel-scape with two candelabras on either side of a turn-of-the-century clock could work comfortably. A pairing of more then one piece from the same time period works best in a formal environment. For example, a hall table, chair & mirror from the art deco period.
In a casual environment, single, unusual pieces used in unexpected ways can be lovely. For example, an old mill wheel used as a coffee table. Consider re-finishing or re-furbishing old pieces and putting them to new uses. An old washstand could house a new sink and make a character-filled addition to a bathroom.
At the other extreme, a maximalist casual environment chock-full and overflowing with collections can be striking. For example, a license plate collection covering an accent wall or a floor strewn with colourful rag rugs. The key here is that the objects must relate to each other in some major way.
The shapes could be similar, the colours could repeat, textures and materials could be similar (smooth or rough) or a clear theme, such as "hand-made" or "pop-art" could unite them. Even in a stripped-down condo environment, a collection displayed in mass, for example, a colourful assortment of road-signs, could be just the ticket to a unique and beautiful space.
Ideas for Display by Room
Living & Dining Room:
The feel of judicious accumulation over the years works especially well in these rooms.
Display architectural salvage or wall-mount an old textile for it's beautiful texture.
Display an oil lamp collection on a side-board or light tapers in antique silver or brass candlesticks.
Consider converting a treasured object into a table or floor lamp and using it as part of your decor.
Kitchen:
Use a mix of open and closed shelving. Group collections in displays according to type or colour.
Art in the kitchen, especially images depicting domestic chores, people enjoying food or the outdoors, can
make this room, which we spend so much time in, more pleasant. Install an old shelf or place a chimney cupboard in the corner to add interest to a standard cabinetry lay-out.
Bedroom:
Smaller collectibles can be displayed in vignettes or groupings on bedside, vanity or dresser. Perfumes bottles on a mirrored tray for example. Painted furniture pieces in wood, wicker or metal can add charm and work especially well with a country style. In the bedroom, a large piece, such as a wardrobe or four-poster bed, can make an impression.